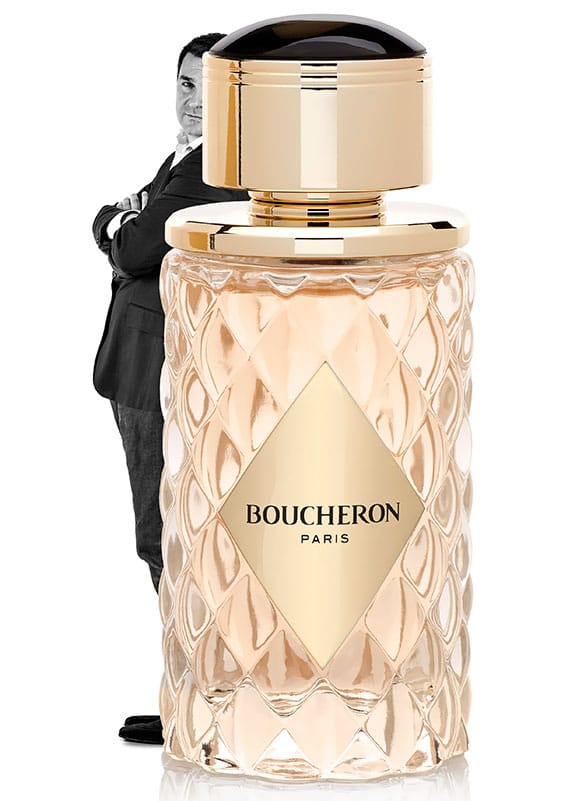 Boucheron Place Vendôme
Sculpteur de matières, qu'il transforme en bijoux d'exception, Boucheron a inspiré la réflexion du studio pi design. En collaboration avec la Maison, Fabrice Legros a imaginé un motif unique, délicat et sophistiqué qui se love dans la main comme une caresse. La lumière qui traverse la colonne de verre lourd illumine le relief galbé de douceur dans lequel est simplement gravé sur une plaque le nom de la Maison. Appel aux sens, luxe des détails et innovation technologique, le flacon «Boucheron Place Vendôme» signe l'alliance créative du design et d'une parfumerie ultra-sélective. Fabrice Legros a capté l'ADN de la marque pour en transcrire les codes dans une création-témoin de cet héritage exceptionnel et l'inscrire avec éclat dans le temps présent.
A sculptor that transforms material into exceptional jewels, Boucheron itself was the inspiration for studio pi design's latest creation. In collaboration with the Maison, studio founder and director Fabrice Legros has created a unique, delicate and sophisticated motif for the Boucheron Place Vendôme perfume bottle, which nestles in the palm of the hand like a caress. Light traverses a weighty, dense glass column, gently illuminating the curves and relief of a bottle inscribed simply with the House's name. It beckons to the senses; its inherent luxury and technological innovation reside in its details, a creative alliance of design and fine perfumery. With Boucheron Place Vendome, Fabrice Legros has captured the brand's DNA, transcribing its codes in a creation that conveys the house's exceptional heritage and anchors it in the present with luster and elegance.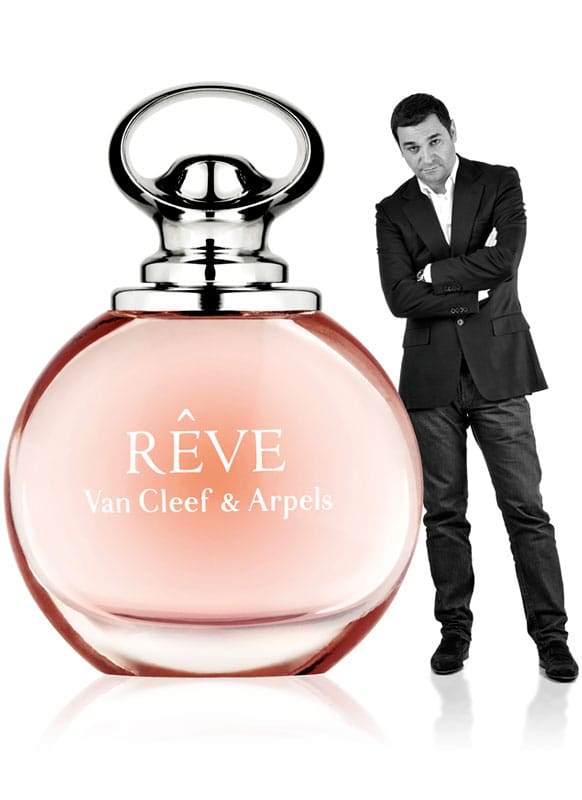 « Rêve » Van Cleef & Arpels
A jewel of a bottle dreamed up by pi design
Le studio pi design a signé Rêve de Van Cleef & Arpels, un flacon-bijou en référence à la haute joaillerie. Fabrice Legros a conçu dès l'origine un projet qui reprend à la fois tous les codes de la marque, identifie clairement son appartenance à la Haute Parfumerie et relève le défi d'une magnifique déclinaison en 3 volumes aux proportions parfaites. Le design de la coiffe, polie sur toute sa surface, relève d'une prouesse technique, amplifiée par le choix d'un matériau noble, le zamac, dont le poids et la sonorité renforcent la qualité perçue. La frette en aluminium ajoute, elle aussi, une touche de sélectivité. Le flacon de forme sphérique légèrement aplatie sur sa face avant et arrière laisse apparaître une parfaite répartition de verre. Sa délicate teinte rose légèrement dégradée renforce le coté sensuel. L'imaginaire du designer a rejoint l'univers onirique et enchanté de Van Cleef & Arpels : « Rêve » s'élève comme un bijou en suspension…
For Rêve by Van Cleef & Arpels, studio pi design has created a gem-like bottle that evokes the world of high jewelry. From the beginning of the project, Fabrice Legros took pains to develop a design that incorporates all of the brand's signature touches, clearly conveys the product's fine perfumery status and meets the challenge of adapting to three different sizes, all with perfect proportions. The creation of the stopper, whose entire surface is polished, was a technical tour de force, enhanced by the use of zamak. The weight and sonorous properties of this sumptuous material reinforce the impression of quality, while the aluminum collar adds a touch of selectivity. The spherical bottle, slightly flattened on the front and back, reveals the perfect distribution of the glass. Its color, a delicate, subtly graduated shade of pink, gives it a sensuous presence. The designer's creative vision has captured the fabulous, enchanted world of Van Cleef & Arpels: "Rêve" is a veritable dream of a bottle, like a jewel floating on air…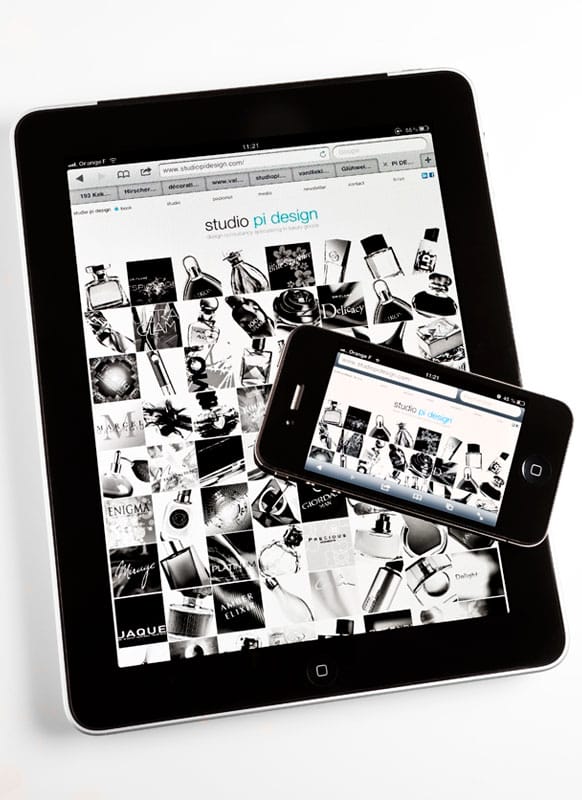 il n'y a pas de luxe sans création
We can't have luxury without creativity
Le luxe ne serait rien sans la création mais la création resterait virtuelle sans le savoir-faire industriel. C'est au cœur de cette trinité que se niche l'avenir de nos métiers, que se noue le lien indéfectible qui en unit tous les acteurs. C'est dans la phase finale de la production que se révèle l'intelligence de la conception. Car on ne peut pas créer sans penser à la chaîne invisible des talents qui œuvrent dans l'ombre pour faire naître la forme et ses matières. Pour donner vie au dessin, ces talents doivent être valorisés pour ancrer le luxe dans la réalité des savoir faire et servir au mieux la vision la plus inventive des créateurs.
Le studio pi design vous souhaite une année 2013 créative, et vous donne rendez-vous sur son nouveau site www.studiopidesign.com.
Without creativity, luxury would simply not exist. But without industrial know-how, creativity would remain in the virtual realm forever. The future of our professions lies at the crossroads of these three essential factors. This is where the unshakable bond is forged uniting everyone involved. The intelligence of the design is only fully revealed in the final stage of production. A designer cannot create without considering the chain of unsung talents, the people who work behind the scenes to make the form and its materials a reality. To bring a design to life, these talents must be nurtured, anchoring luxury in the authenticity of their know-how, the better to realize the design team's most inventive vision.
We here at studio pi design would like to take this opportunity to wish you a creative year in 2013, and to invite you to visit our new website: www.studiopidesign.com.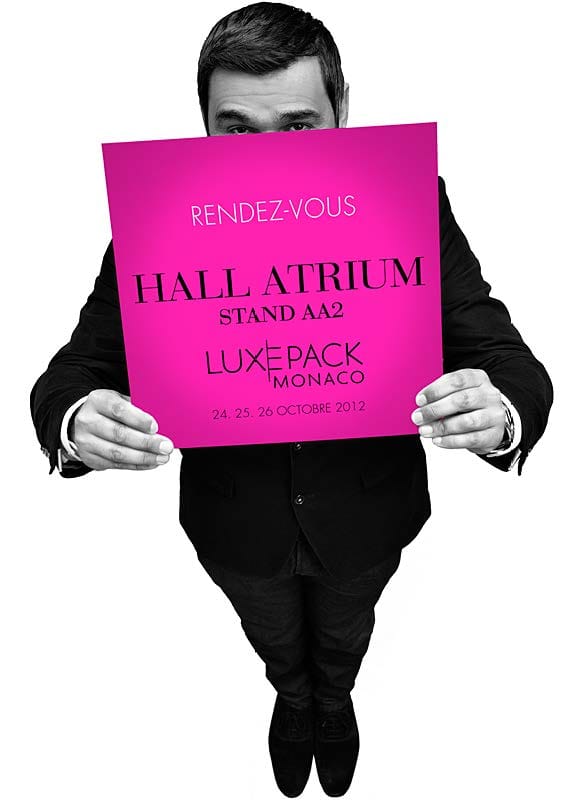 l'innovation collaborative
Le studio pi design a choisi Luxe Pack Monaco pour franchir avec vous une nouvelle étape innovante. Rejoignez-nous sur le stand AA2 du nouvel espace Atrium du 24 au 26 octobre 2012. Fabrice Legros ouvrira avec vous un dialogue inédit pour renforcer le lien incontournable qui unit le designer et la marque. En accédant ainsi à cette part substantielle de votre identité sans laquelle la création resterait un exercice de style théorique, il inaugure l'innovation collaborative. Pour travailler au plus près des exigences du marketing et traduire au mieux la quintessence de votre marque dans un flacon qui l'incarnera aux yeux des consommateurs, le studio pi design bouscule la création et la met à votre écoute. Prenons rendez-vous : 01 47 33 52 11 – creation@studiopidesign.com
For you and studio pi design, Luxe Pack Monaco will mark the beginning of a new phase in our creative collaboration. Come and see us at Stand AA2 in the new Atrium Space on October 24-26, 2012. Taking the dialogue into fresh territory, Fabrice Legros will discuss how to strengthen the vital ties between designer and brand. By accessing this essential aspect of your identity, without which creation would be an empty stylistic exercise, he is opening the realm of collaborative innovation. In order to match all marketing criteria and capture the quintessence of your brand in a bottle that conveys its identity to the consumer, studio pi design is rethinking the creative process with you in mind. We hope to hear from you soon: +33 (0)1 47 33 52 11- creation@studiopidesign.com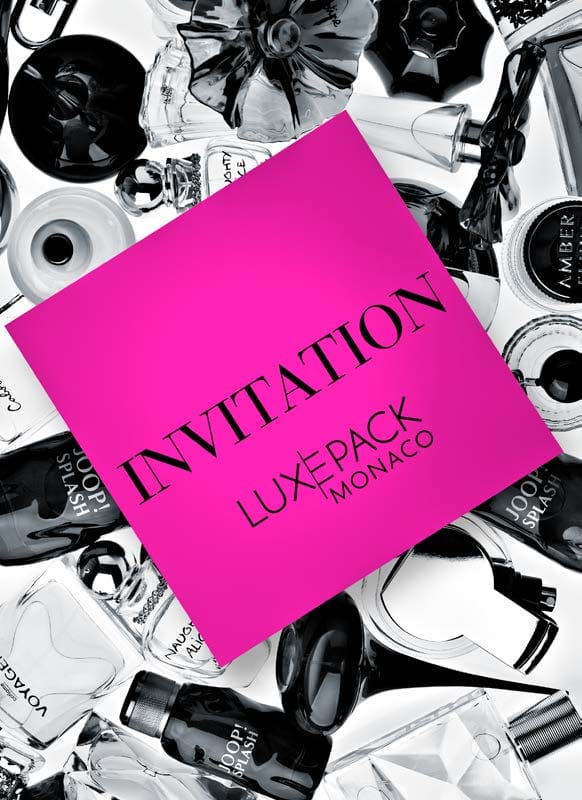 luxe pack 2012 pi design s'expose
studio pi design on hand at Luxe Pack
Et si vous vous laissiez tenter par une nouvelle expérience ? Dans un nouvel espace, osons un dialogue inédit, affranchi des contraintes opérationnelles et pourtant bien ancré dans la réalité de vos préoccupations les plus essentielles. Depuis un peu plus d'un an, le studio pi design vous donne un rendez-vous épistolaire régulier au coeur de la création. Aujourd'hui il vous propose d'aller plus loin, pour avancer ensemble sur le chemin de l'innovation, pour guider votre réflexion sur l'avenir de vos marques. C'est à Luxe Pack, du 24 au 26 octobre 2012, que le studio pi design vous propose d'ouvrir l'horizon de la parfumerie aux possibilités infinies que la maîtrise des savoir faire les plus pointus réserve au design sur-mesure.
Pour tracer avec vous un nouvel itinéraire d'exigence au service de la création, prenons rendez-vous dans le nouvel espace «Atrium» de Luxe Pack : 01 47 33 52 11 fabrice.legros@studiopidesign.com
Why not try something new? Let's try a new kind of dialogue, in a new space, free from operational restrictions but still focused on the reality of your most essential concerns. For just over a year now, studio pi design has been keeping you up to date with regular newsletters devoted to creative questions and reflections. Today we are asking you to take the next step, to advance with us on the road of innovation, to shape your strategic thinking on the future of your brands. At Luxe Pack, next October 24-26, studio pi design will be on hand, ready to expand your horizons in perfumery through the infinite possibilities of custom design made possible by the mastery of the latest, most sophisticated techniques. To define a new path toward peak-quality creation, come and see us in the new "Atrium" space at Luxe Pack. For appointments please call +33 (0) 1 47 33 52 11 – fabrice.legros@studiopidesign.com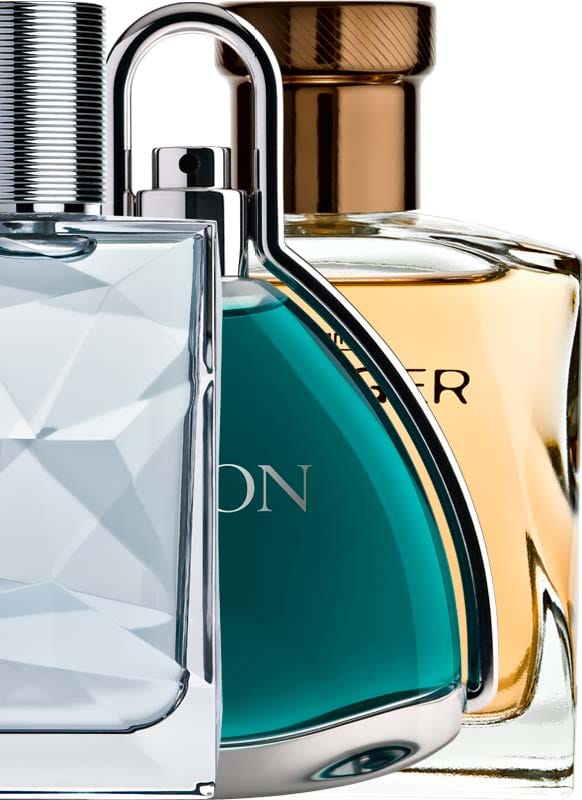 le verre au coeur de la création
creativity: reflections on glass
Le design n'est pas qu'une question de forme mais aussi de matière. Parmi les plus exigeantes d'entre elles, le verre joue en parfumerie une partition délicate qui mobilise tout le talent du créateur. Le verre et sa répartition signent en effet les propriétés sensuelles essentielles du flacon : son poids, son équilibre, le jeu de la lumière et le dialogue des formes intérieure et extérieure. C'est d'un coup tout un mystère que l'on tient au creux de la main, que l'on embrasse d'un regard qui révèle un univers, celui d'une marque et de son parfum, par un tour de magie que seul le designer maîtrise. C'est à cette expertise invisible mais déterminante qu'il faut faire confiance pour que le verre exerce tout son pouvoir et illumine les plus belles créations.
Many people think of design in terms of "form and function," but the material is just as important. One of the most demanding materials is glass, whose use in perfumery requires a finesse that calls upon all of the designer's talent. The quality and distribution of the glass determine the bottle's sensorial properties: its weight and balance, the way it catches the light, and the dialogue between the inner and outer contours. It takes a skilled designer to achieve this magical harmony, this intricate mystery that fits into the palm of the hand, and whose surfaces and depths reveal a whole world — the world of the brand and its fragrance. The brand must put its trust in this unseen yet essential expertise, which allows glass to wield its expressive effects and showcase the beauty of the finest compositions.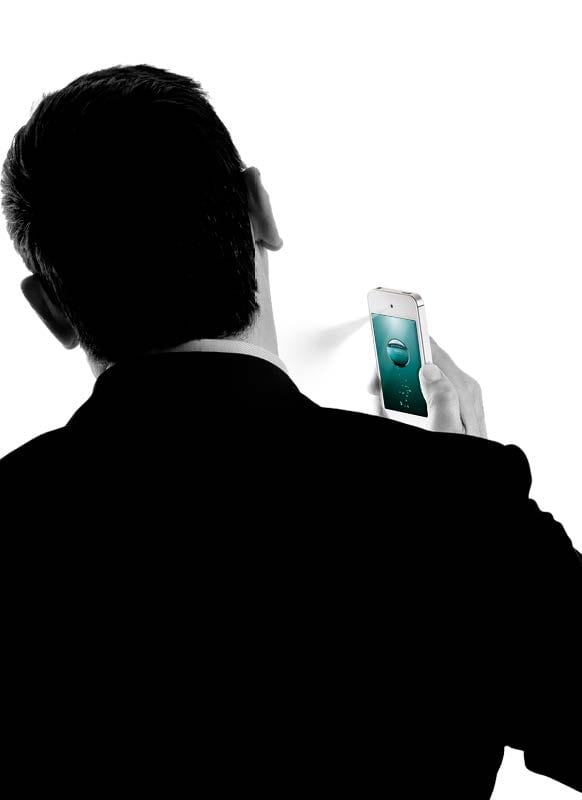 le design avancé
Et si une pomme, une fois encore, bouleversait les sens de l'humanité… Quelques effluves fruités venus du panthéon des geeks, l'essence d'une nouvelle mythologie où le virtuel l'emporte sur le réel, galvanise les consommateurs et défie l'imaginaire. Comment le respirerez-vous ? Dans quelle dimension le saisirezvous ? The sky's the limit, au paradis des nouvelles technologies tout devient possible. Quand la science se mobilise au service des émotions, le design peut faire des miracles… Le design avancé inspire et nourrit ainsi bien des industries, mais pas encore la parfumerie. Affranchie de sa dimension opérationnelle, la création devient pourtant vraiment prospective et ouvre le champ de l'innovation.
What if, once again, an apple serendipitously changes the course of history? A fruity breeze that wafts in from the digital world, the essence of a new mythology in which the virtual counts more than reality, electrifying the consumers and sparking the imagination. How would you take it in? In what dimension would it exist? In the modern-day paradise of new technologies, the sky's the limit. With science on its side, the better to elicit feelings and sensations, design can work miracles. Advanced design has been inspiring and nourishing many industries, but not perfumery. At least not yet. But it could free the creative process from its operational constraints, making it truly prospective and opening the way to ever more innovation.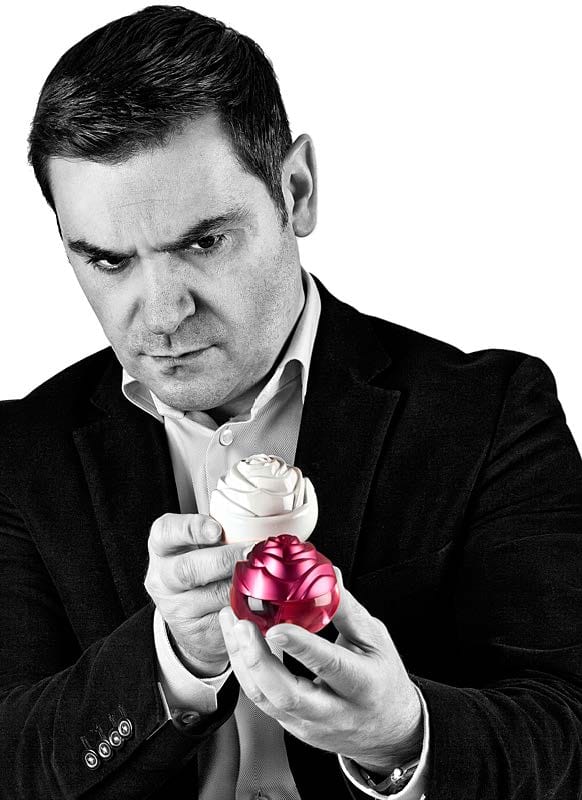 de l'esquisse au volume
From the drawing board to reality
Qu'est-ce que le design en parfumerie, sinon l'élaboration d'une forme ? Plus proche de la sculpture que de tout autre art, il est affaire de volume, de toucher, de préhension. Privé de ces sensations tactiles, le designer serait coupé d'un outil précieux et indispensable qu'aucune prouesse technologique ne pourra jamais remplacer pour donner vie à une idée : la maquette. C'est grâce à elle, et à elle seule, que l'image devient matière, le virtuel s'ancre dans le réel. Il faut la manipuler, la toucher et la retoucher pour comprendre, ressentir et finaliser sa forme. Sans maquette, le designer créerait un objet virtuel pour ne découvrir le flacon que deux ans plus tard, entre les mains de la consommatrice. Un exercice qui relèverait davantage de la science fiction que de la création et qui priverait le designer d'un élément indispensable à sa pleine expression. Car pour que la parfumerie parle aux sens, les créateurs doivent pouvoir écouter les leurs.
At its most fundamental, design in perfumery consists of the development of a shape. More closely linked to sculpture than any other art, it addresses the problems of volume, surface feel and interaction with the user's hand. Without these tactile sensations, the designer would be deprived of a precious tool for bringing an idea to life, a tool that no technological advance can ever replace: the 3D model. The model is a vital part of the process, the key element that allows the imaginary to become material, the virtual to become reality. The model must be touched, felt and experienced in order to understand, both intellectually and intuitively, and finalize its form. With no model, the designer would merely be creating a virtual object, never seeing the actual bottle until it reaches the stores two years later. Design would resemble science fiction more than creation, and the designer's expressive capacity would be severely limited. After all, perfumery speaks to the senses – its designers must have the benefit of theirs.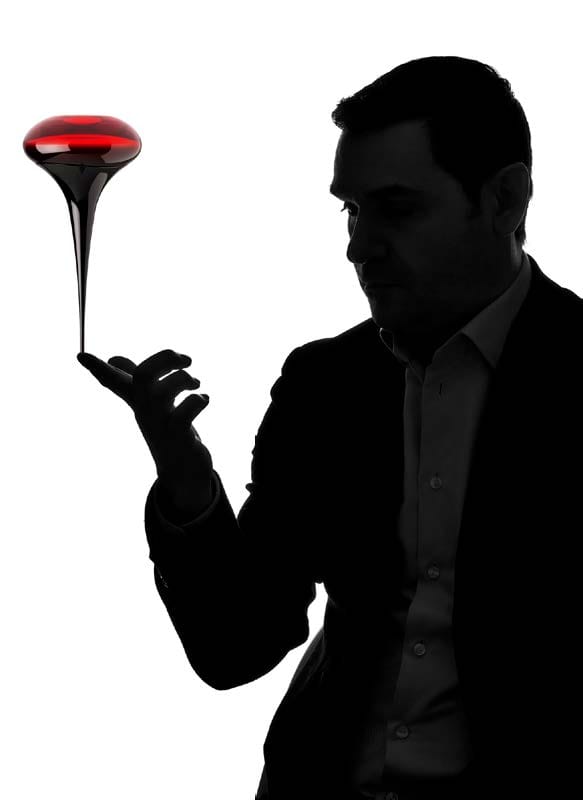 Le tempo de la création
La création est un mystère. Dans la genèse d'un flacon, la forme pure naît de la vision du designer et son aboutissement relève de sa seule intuition. Lui seul, avant tout autre, éprouve cette simple mais forte certitude. Celle d'avoir trouvé, d'avoir atteint le graal. Pour que ce charme opère, le créateur doit être le maître du temps. Pourtant, un sablier implacable égrène les minutes du développement et bouscule parfois ce tempo. Trop long pour certains, il est cependant indispensable à la pleine réalisation d'une création qui va au-delà de la mode et des saisons, pour s'inscrire au coeur de l'histoire et de la culture de la marque. Imaginons alors une horloge magique et bienveillante dont l'impact plus justement réparti préserverait cette part de mystère que le designer maîtrise et qui signe les plus belles créations de la parfumerie.
The creative process is a mystery. In the genesis of a bottle, the essential form arises from the designer's vision, taking shape solely through the power of his intuition. He alone feels this simple but compelling conviction — the certainty of having found the solution, having reached the ineffable goal. For this wizardry to take place, the creator must be master of his time. And yet, an implacable chronometer is ticking off the minutes of the design phase, sometimes disrupting its pace. The process may seem long, but it is the only way to perfect a creation that transcends trends and seasons, becoming one with the brand's history and culture. If only it were gauged by an enchanted, benevolent timepiece whose equitable authority would preserve the mystery of the designer's craft, the magic that is the hallmark of the finest creations in perfumery.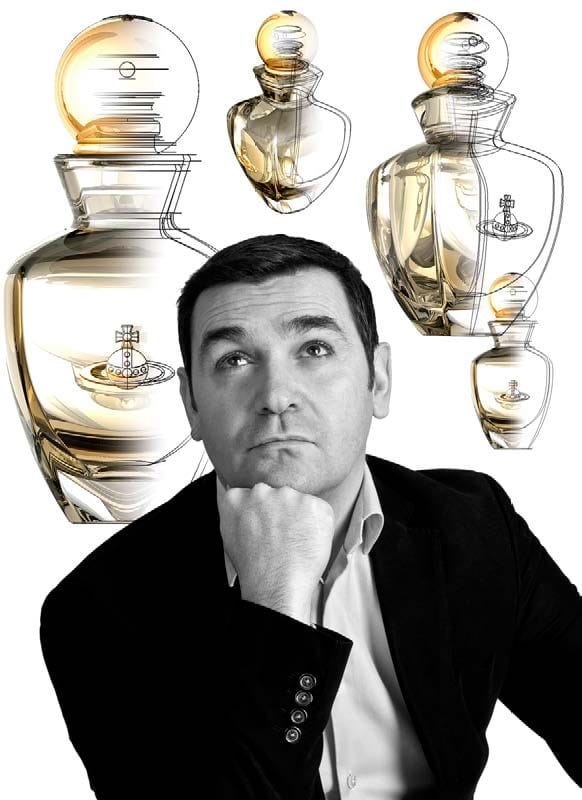 art mineur, art majeur
A l'heure où le design s'impose dans notre quotidien, quel est son rôle en parfumerie ? Art mineur ou majeur ? Dans le concert des talents réunis autour des lancements les plus stratégiques, la partition du designer n'a pas révélé tout son potentiel. Question de culture sans doute, question de rupture aussi. Au chef d'orchestre en effet de tenir la baguette et d'impulser le rythme. Car au fond, récital de soliste virtuose ou symphonie pour orchestre, qu'importe le pupitre tant que la musique est originale. Le designer s'adapte à toutes les formations, et son ambition artistique n'a d'autre but que d'ouvrir de nouveaux horizons à toutes les marques de la parfumerie mondiale. La création, comme un concert, est affaire d'expérience, dont le partage accentue la richesse et la réussite.
Le studio Pi design vous souhaite une année 2012 en art majeur.
In recent times, design has been playing an increasingly important role in our daily lives. But what is its role in perfumery? Is it a major art, or one of the minor arts? In the orchestra of talents that join together for the most strategic launches, the voice of the designer has yet to reveal its full potential. It's the conductor, after all, who wields the baton and dictates the tempo. Ultimately, whether for an intimate recital by a virtuoso soloist or a symphony for a full-blown orchestra, the stage setting is hardly noticed, as long as the music is original and engaging. The designer can adapt to any instrumentation, with an artistic ambition that seeks only to open new perspectives for all of the international perfumery brands. Creative success, like a fine musical performance, depends on experience, and sharing that experience brings its expressiveness to a crescendo. Studio Pi design wishes you a happy and successful 2012, in the key of art (major).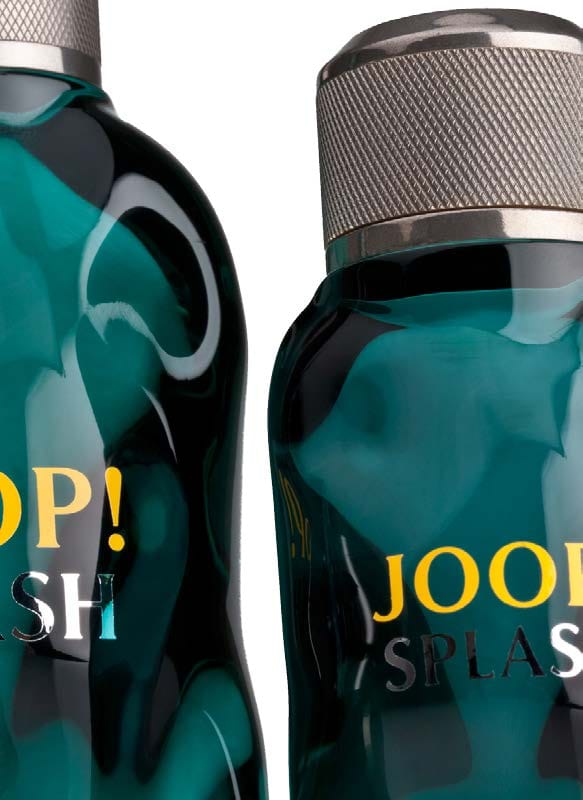 la matière dans tous ses états
Liquide, solide, minéral, végétal, organique… Ecolo ? Peut-être. Loin des diktats du minimalisme ou de la sophistication d'un baroque parfois kitsch, la nature s'invite dans le design et parle aux sens. Une aspiration à la vérité, à la justesse de la forme et de sa matérialisation inspire les commandes et les briefs. La nature est devenue la référence de la création et la technique est son alliée la plus inattendue. On peut aujourd'hui saisir dans le verre une vague puissante, poser la magie d'une corolle épanouie sur un flacon, sculpter les facettes d'un cristal taillé comme du quartz. La modélisation en 3D d'une forme organique transforme les flacons en éclats de nature qui embelliront le quotidien des consommatrices. Car le design aujourd'hui met un peu de nature dans la vie et adoucit une actualité toujours plus incertaine d'une réalité plus durable.
Solid, liquid, mineral, vegetable, organic… And ecological? Perhaps. Far from the dictates of minimalism or the sophistication of a baroque that borders on kitsch, nature is lending its unique sensory appeal to the world of design. Commissions and briefs are inspired by an aspiration to meaning, to the pertinence of the form and its materialization. Nature has become the benchmark of the creative process, with, paradoxically, technology as its most valuable ally. Today we can capture the power of a wave in glass, crown a bottle with the magic of a flower in full bloom, or sculpt crystal with quartz-like facets. The 3D modeling of an organic shape transforms the bottles into microcosms of nature, ready to brighten the lives of the women who use them. With a touch of nature, today's design offers a more lasting reality to offset the uncertainties of an increasingly turbulent world.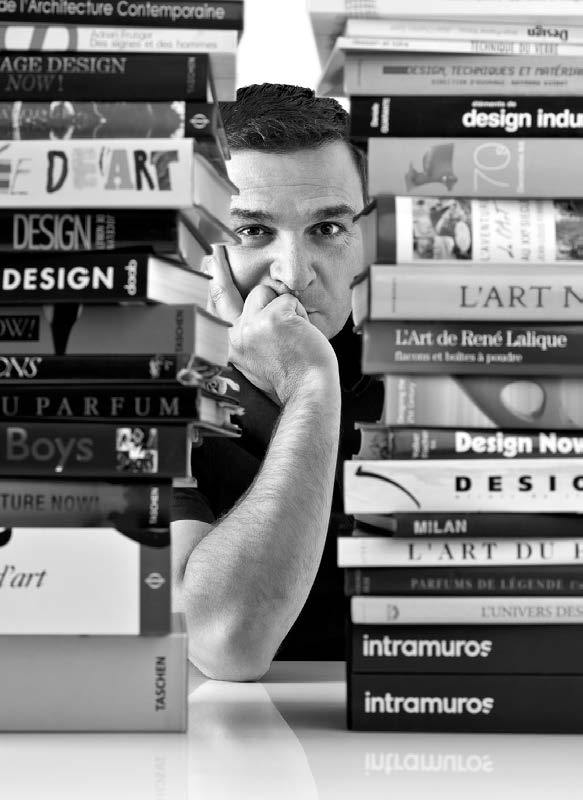 Les mots pour le dire
Sur le chemin qui mène du concept à la réalité, plusieurs talents se rassemblent et se succèdent dans le processus de création d'un parfum. Designer, parfumeur ou publicitaire, à chacun de ces métiers, son langage particulier. Pour y répondre, un seul brief, avec les mêmes mots, quelle que soit la réalité du métier auquel il s'adresse, ne peut suffire à traduire tout l'univers de la marque. Certes les mots peuvent être des miroirs déformants, mais, bien choisis, ils sont aussi les passerelles indispensables entre votre imaginaire et celui des créateurs, et favorisent une meilleure compréhension mutuelle et une plus grande efficacité dans la conduite de votre projet. Alors le studio pi design vous fait une proposition : à chacun son métier, à chacun son brief, pour faire naître le flacon, le jus, l'image…
On the path that leads from concept to finished product, a number of talents come together in the process of creating a fragrance. From perfumer to designer to advertising expert, each profession has its own language. In this situation, a single brief, using the same words for all collaborators no matter what their specific concerns, cannot suffice to convey the brand's complete identity. Like a distorting mirror, words do not always accurately reflect reality. But when they are well-chosen, they become the indispensable bridge between your vision and the creative team's imagination, improving mutual understanding and allowing you to manage your project more efficiently. That's why studio pi design makes you this offer: to each his own job, and to each his own brief, for the composition, the bottle, the ad image…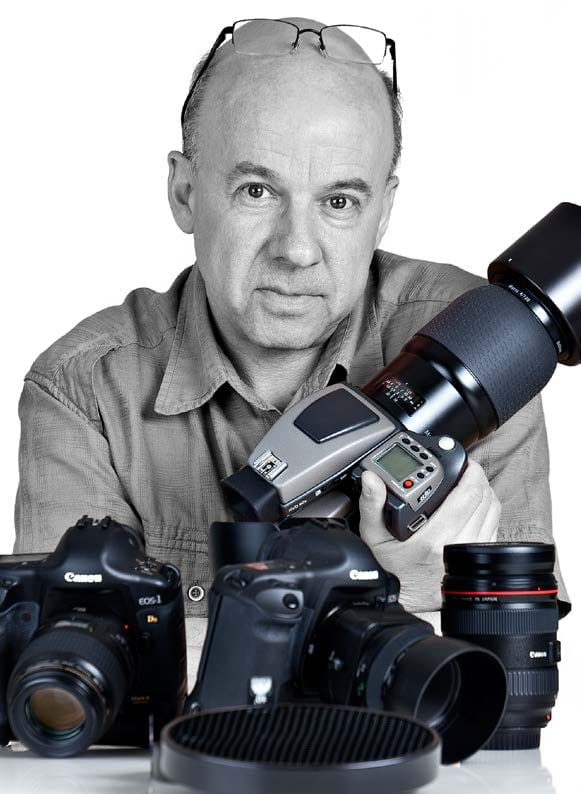 de la forme à l'image
Pour aller jusqu'au bout de sa démarche créative et pour répondre aux besoins de ses clients, Fabrice Legros, fondateur et dirigeant de studio pi design a créé son studio photo. Une activité qui s'inscrit tout naturellement dans la continuité du design. Qui mieux que le créateur peut valoriser un flacon, souligner ses volumes, magnifier sa matière ou traduire sa capacité à capter ou renvoyer la lumière ? Grâce au talent et à la compétence technique d'un photographe professionnel, Didier Prix, packshots produits bien sûr, mais surtout visuels publicitaires sont réalisés dès la finalisation des maquettes. Avec la même exigence que celle mise à la création du flacon, le patient et primordial travail des lumières, la précision des shootings, et les retouches ultimes les plus subtiles se défient des contraintes et conduisent à la création de l'image la plus aboutie. Car le studio pi design c'est encore et toujours une vision créative au service des plus beaux produits.
In order to offer his clients a comprehensive range of creative services, Fabrice Legros, the founder and director of studio pi design, has installed a photo studio. Photography is a natural extension of design: who but the designer himself could better convey the beauty of a bottle, its volumes, its materials or its capacity to capture and reflect light? Calling upon the talent and technical skill of professional photographer Didier Prix, studio pi design produces stock images like packshots, but its real specialty is advertising photos, which can be produced as soon as the mockups are finalized. Applying the same exacting standards as for the creation of the object itself, the lighting and the shots are set up with utmost precision and the basic images are retouched as needed to fine-tune every nuance. The result is polished, eye-catching photos that transcend the restrictions of the medium, and that exemplify studio pi design's philosophy of offering a creative vision for the benefit of the most beautiful products.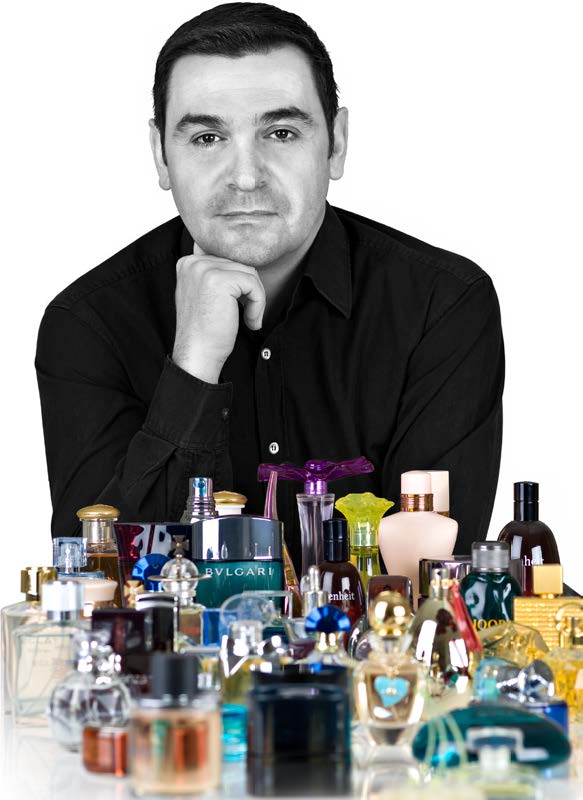 good design good business
good design good business
Le studio pi design vient de fêter 15 ans de créations et remercie toutes les marques qui lui on fait confiance, comme Bulgari, Chopard, Dior, Jean-Paul Gaultier, Lolita Lempicka, Narciso Rodriguez, Oriflame, Vivienne Westwood, Yves Saint Laurent… Le studio pi design est fier d'avoir signé plus d'une centaine de projets de parfums et de maquillages. Diplômé de l'Ecole Nationale Supérieure des Arts Décoratifs de Paris, de l'université Georgia Tech d'Atlanta (USA), Fabrice Legros est le fondateur, le gérant et le directeur artistique du studio pi design qui prend en charge les projets dès l'étude et les conduit jusqu'au stade ultime de la fabrication. Depuis sa création en 1995, l'agence répond aux demandes les plus exigeantes des marques du luxe tant en France qu'à l'international avec un seul credo : concentrer toutes les énergies sur la création et rien que la création. Car le design, c'est avant tout être visionnaire, mais c'est aussi une affaire de goût, de plaisir et d'intuition pour concevoir des produits qui témoignent d'une expertise technique des plus pointues.
Having just celebrated its fifteenth year of creative activity, studio pi design would like to thank all the clients that have called upon its talent and expertise. The studio is proud to have completed more than 100 major fragrance and makeup projects for brands like Bulgari, Chopard, Dior, Jean Paul Gaultier, Lolita Lempicka, Narciso Rodriguez, Oriflame, Vivienne Westwood and Yves Saint Laurent, to name just a few. A graduate of ENSAD, France's national decorative arts academy in Paris, and Georgia Tech University in Atlanta, Georgia (USA), Fabrice Legros is the founder, manager and creative director of studio pi design, supervising each project every step of the way, from the preliminary studies to the final production phase. Since its founding in 1995, the studio has been fulfilling the most exacting demands of luxury brands in France and around the world, always with a single philosophy in mind: to concentrate everyone's energy on creativity and nothing but creativity. Design is above all a matter of vision, but it's also a matter of taste, of pleasure and intuition, to develop products at the leading edge of technical sophistication.